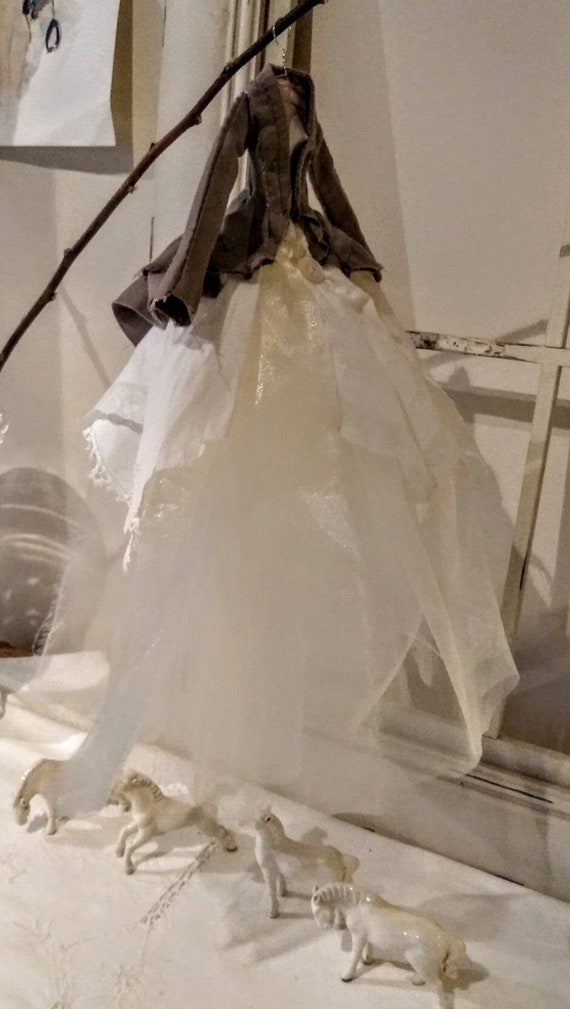 78.00 GBP
Assemblage Art Dress Made From Paper and Fabric.
Small 31cm long, 25cm wide, paper and fabric assemblage dress.
A small three dimensional dress inspired by the novel – Wuthering Heights, by Emily Bronte. The bodice is sculpted and stitched together using vintage white cotton handkerchiefs. The skirt is made from organza. Over the dress is an intrecately tailored jacket.
The riding jacket is mink coloured whilst the dress is made of soft pale duck egg blue linen. The skirt of the dress has ruched pieces of lace and cottons and a couple of mother of pearl buttons.
Cathy is known for being a free spirit, loving the moors. The dress has been made to look as if it were unkempt form being worn out on the moors and, the riding jacket included as the first thing she found to throw over her shoulders as she ran out the door.
Wuthering Heights is a novel by Emily Brontë published in 1847. It was her only novel and written between December 1845 and July 1846.
"I've no more business to marry Edgar Linton than I have to be in heaven; and if the wicked man in there had not brought Heathcliff so low, I shouldn't have thought of it. It would degrade me to marry Heathcliff now; so he shall never know how I love him: and that, not because he's handsome, Nelly, but because he's more myself than I am. Whatever our souls are made of, his and mine are the same; and Linton's is as different as a moonbeam from lightning, or frost from fire."