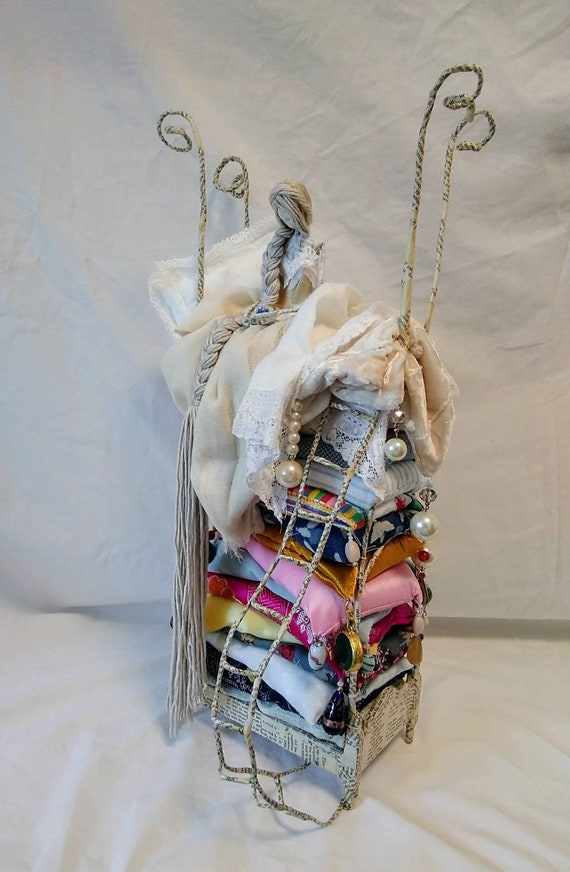 250.00 GBP
Wire and papier mache Sculpture, Princess and The Pea, inspired by Hans Christian Andersen – 23cm wide, 48cm high and 14cm deep.
There was no question about it, only a real Princess would be able to feel the tiny pea through all those mattresses.
Perched high on the layered mattresses and eiderdowns, the Princess can't sleep at all, something about this bed just isn't quite right. She sits awake, waiting for sleep to find her, hoping a chamomile tea will soothe her and beckon sweet slumber.
The bed and figure are made from paper mache and wire. The mattresses are from all over the world; from Chinese satins, Indian cotton's, Scandinavian stripes and beautiful cotton's. various beads hang from the more extravagant mattresses. Her sheets are made from vintage handkerchiefs while her eiderdown is a lovely soft velvet.
To purchase any of my art work please visit my shop on Etsy or contact me by e-mail at info@messiejessie.co.uk.